Marana, AZ Storage and Moving Solutions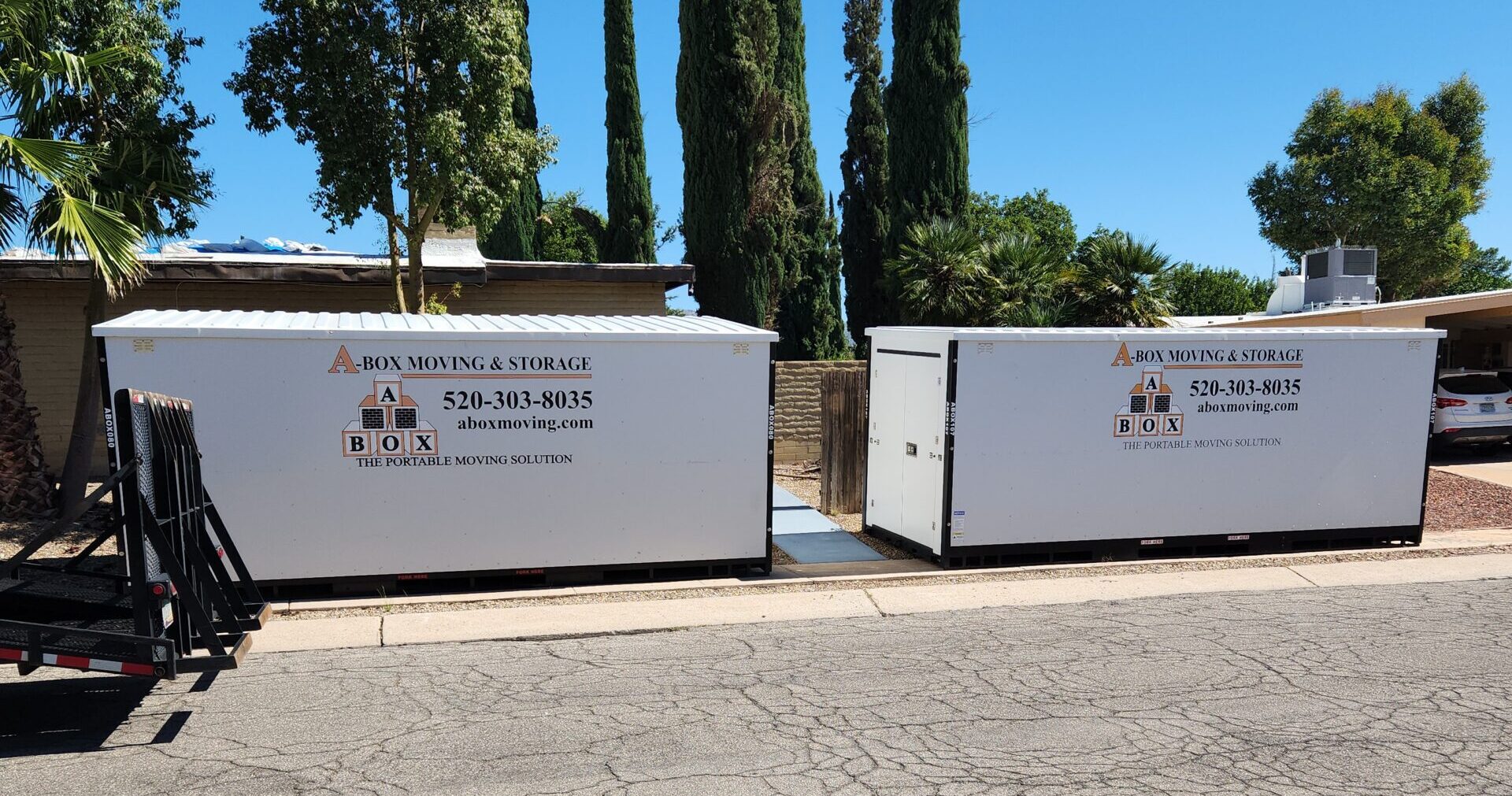 Take the stress out of your relocation process in Marana, AZ, by working with a highly skilled portable storage and moving company. You can turn to A Box Moving And Storage for assistance with storage, and transportation. We'll give your property our complete attention to ensure that the process runs smoothly for you.
We are equipped to handle large and small jobs, and we've served home and business owners alike. Customer satisfaction is our top priority. That's why we offer convenient appointments along with competitive rates. You'll also appreciate that we provide:
On-time deliveries, every time
Clean Units
Respectful treatment
If you're worried about getting your household packed up and loaded, then find out what our moving company can do for you. We've assisted people throughout Greater Tucson, and are looking forward to helping you next. There's no need to handle this overwhelming task on your own because A Box Moving And Portable Storage is here to serve you. Call my office and find out how I can deal with the heavy lifting.
Portable Storage Units in Marana, AZ
A Box Moving and Storage provides portable storage units in Marana for all your moving and storage needs. Our Marana storage services follow a simple process:
First, we deliver your Moving Container
Then you load it at your own pace.
Lastly, we pick up and move or store your storage unit.
A Box Moving and Storage delivers flexible solutions for temporary or long-term storage unit rentals in Marana. You may choose to store your portable storage unit at your home or at our local secure yard. Our moving and storage units remove the need for truck rentals since our drivers will pick up and deliver your container at your convenience.
At A Box Moving and Storage, our Marana portable storage services are available at a low, up-front price. This means you will never have any hidden fees. Unlike our competitors, our prices include delivery and pick up fees. We do not include hidden fees or unnecessary costs.
How does portable storage work?
We deliver the A Box container to your driveway, you load at your pace, at your convenience, then we move it or store it. That's it! No other Marana company makes moving and storage this easy. Contact us today for a free quote, we will make your storage needs disappear! Servicing the Marana area for over 10 years.
We were able to move a 40 foot container with his specialty setup, into an opening that quite literally seemed impossible. Awesome work, polite, professional, and they will get the job accomplished if it's possible. Thanks and look forward to working with you guys in the future.
Boneyard Safari
2021-09-28
David and his team are fantastic! Relocated a container in minutes with no problems. They are able to put the container precisely in the location wanted. Will work together on the next project.
Excellent work, especially since my conex box had been modified and wasn't standard. Super helpful in making it work and placing the conex exactly where I wanted it. Went the extra mile so I wouldn't have to cut any more branches of good sized mesquite
David is amazing. My family went through a pretty rough time when most of our home flooded and David was so patient, understanding and courteous. Throughout this whole ordeal he managed to make our situation much better. The pod we got was strong, water resistant and big enough to fit all our needs. If you have any storage needs I'd call no one else but him and A-Box Moving & Storage! Thank you again David from my family and myself.
David was responsive, came and moved the box to different places in the Driveway during construction without charge. The Box is strong , critter & rain proof, easy to store things in and looks new and clean.
I have called every single storage container moving company in Tucson and this guy has the BEST price. I need my stuff stored for one month before moving in, it's actually 4 days over one month and this is the ONLY company in Tucson that pro-rates your days. All the other companies in Tucson have told me it's on a month to month basis and I would have had to pay the 300-400 dollars for needing it stored for 4 extra days, because of this company I will be saving HALF of the price because they're pro-rate me those 4 days! I'm never going to use another company again.
The beans didn't move! I'll explain that in a minute. First, you need to know this service FAR exceeded my expectations. Polite, safe, great rates, punctual, & great equipment. The "other guys" had a LOT of hidden fees, & this is a straightforward price. Dave used his Remote Control Forklift (so cool!) to plant the box exactly where we wanted it. The box is well-designed, with tie-down hooks in the metal frame of the cargo space, a super-cool floor, & is secure with metal sides, not that cheap tarp stuff that the "other guys" use. The doors are secure & seal well. Ours saw a couple of windy rainstorms & had zero leaks. We were able to pack our own belongings into it without the stress of daily fees, and the box was delivered to our new house exactly on time; we still have ample time to unload, while knowing everything is secure, including our budget. Now, about those beans. I like to experiment. There are some bumpy roads full of potholes in between the old & new house. I set up a box of canned beans in an easy-slide location, where it could be My Little Missile. I purposely put stuff I don't love at the back near the doors, without tie-downs. I have to admit I was hoping for an excuse to get a new laundry pair. I set 2 very large boxes on top of the washer precariously, hanging about 30% off the machine, with the heavier box on top, lighter one on bottom. Also, I put a cheap fan at the back door, with an unsecured heavy desk poised to obliterate it, amongst other "booby-traps". I did this to find out how roughly the container would be treated. I didn't tell anyone at all, not even family, that I was experimenting this way. I was absolutely shocked to open the container & see that every single thing was exactly as I left it. The beans didn't move! Nothing moved! The precarious boxes were still poorly perched, & the desk didn't even kiss the fan. If you don't like movers being rough with your stuff, this is 100% the best way to get it done your way. Your wallet & your sanity will thank you!